Pacteon Group provides innovative design, manufacturing, and after-market support of fully integrated automated end-of-line packaging solutions.
Automating the Supply of Life's Products
We take the time to learn about your products and develop the best application for packaging securely, efficiently, and consistently through your end of line so your products reach the finish line.
Collectively, Pacteon brands have 80 years of expertise in end-of-line packaging and have installed over 10,600 machines. Our customers range from emerging brands to some of the largest manufacturing facilities in the world.
Pacteon brands have individual specialties and equipment which integrates easily across brands. This broad range of cohesive equipment is what makes Pacteon your one source for end of line packaging solutions.
Founded in 1993, ESS specializes in complete packaging line design, equipment manufacturing, and integration for the pharmaceuticals, nutraceuticals, cosmetics and consumer packaged goods. We are a FANUC America Authorized System Integrator, and we offer packaging machinery with integrated serialization systems from OEMs to meet pharmaceutical track and trace mandates.
Machine offerings:
Fillers-Cappers, Cartoners, Case Packers, Robotic palletizers, and TaskMate Robotic Systems®.
Schneider Packaging Equipment
With more than 50 years of industry problem-solving in end-of-line automation, Schneider Packaging Equipment Company, Inc. is a leading manufacturer of case packing and robotic palletizing solutions. Headquartered in Upstate New York, we design state-of-the-art machinery for customers in industries such as food and beverage, dairy, pharmaceutical, personal care, plastics, and paper. To date, we have installed and continue to support over 3,700 world-class machines in some of the biggest manufacturing operations in the world. Driving solutions to address our customers' specific issues pushes us to constantly innovate our machines, software, and ancillary services.
Machine offerings:
Horizontal Case Packer, High Speed Horizontal Case Packer, Bottom Loading Case Packer, Robotic Case Packer, Gable Top Systems, Modular Palletizer, Integrated Palletizer, Centralized Palletizer
Technologies
ProAdjust automated machine adjustment system
Intelligent Illumination automated maintenance detection

OptiStak Pallet Generation Software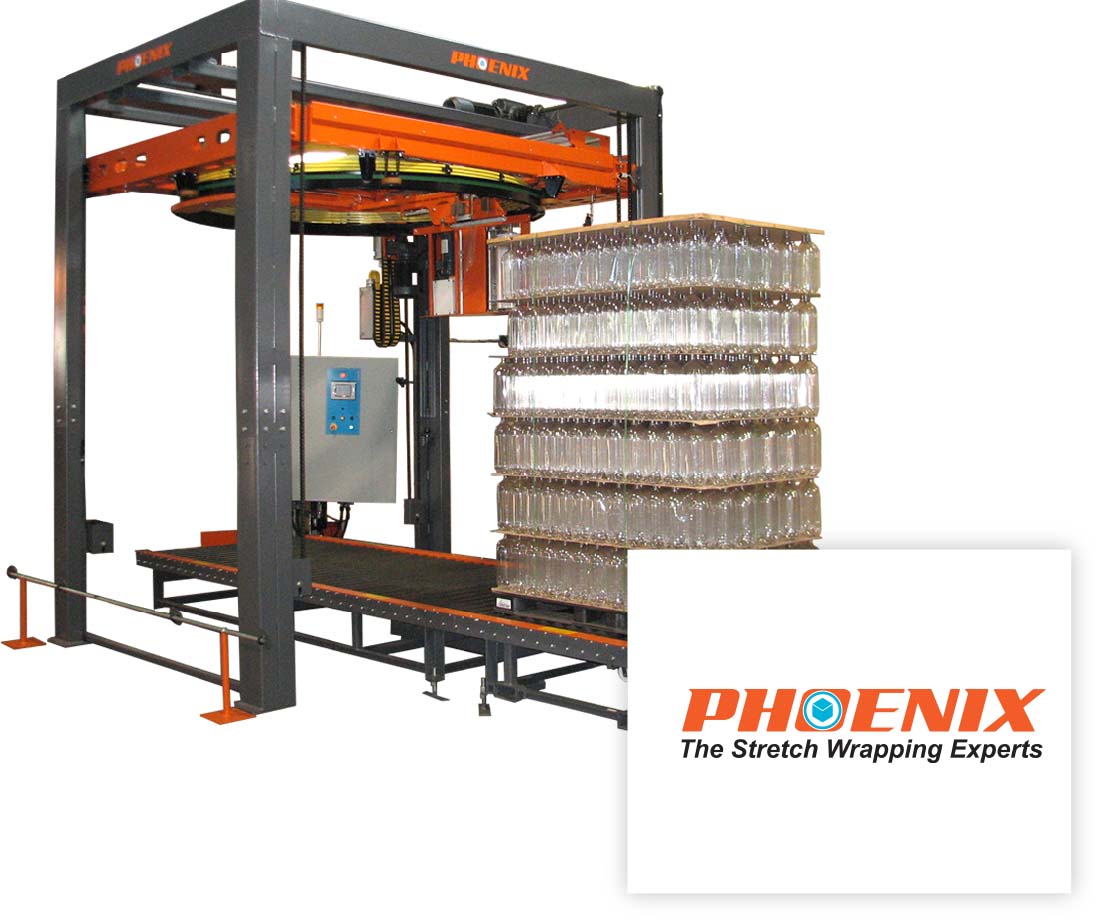 Started in 1994, Phoenix Wrappers is a leading pallet shrink wrap machine manufacturer. Phoenix Wrappers specializes in a full-range of stretch wrap equipment from semi-automatic up to high speed fully automatic customized material handling systems. Having a well-earned reputation of dependable, "built like a tank" machine design, Phoenix continues to provide stretch wrap machinery that can handle our customer's worst conditions with ease.
Machine offerings:
Semi-automatic pallet wrapping applications:
Low Profile for both pallet jacks and electric walkies
High Profile for forklift loading only
Rotary arms for loads which are very light or very heavy
High speed pallet wrapping applications:
Conveyorized Turntables
Conveyorized Rotary Arms
Conveyorized Rotary Rings
Non conveyorized turntables and rotary arms
Cabinet & Furniture Wrapping | High Tension Dual Film Wrapping | Rotary Ring Solution | Phoenix Specialized Group for System integration | Phoenix Pallet Jack loaded Autos
The Pacteon Group includes 250 of the packaging industry's best designers, engineers, assemblers, sales, and service professionals. We have a shared commitment to continuously innovate and always deliver the Pacteon Promise: We Make it Right.